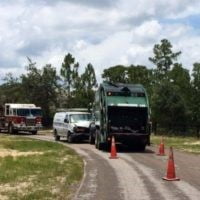 What's worse than driving along in your work van and being hit head-on by a garbage truck? When the garbage man lies and says it was your fault! Unfortunately, this exact scenario happened to one of my clients. Good thing for him, my client's boss was a friend of mine and called me from the scene. I was able to alert them immediately that securing evidence of the resting position of the vehicles involved was critical to proving who was at fault. My friend said fault was obvious but I insisted that he get out his phone and document the scene. A judge once told me, and I have never forgotten, EVIDENCE IS KING.
As an Ocala accident and injury attorney, I never assume people are going to take responsibility for their negligent actions. Unfortunately, I have handled hundreds of cases where the at-fault driver tries to turn the blame to the crash victim. Many times, crash victims or their families call me while they are still at the scene of the crash. In those instances, I have them take pictures with their cell phones and text or e-mail them to me in my office so I can make sure they are getting all of the angles they need with surrounding landmarks to document the placement of the vehicles, the debris pattern in the road, skid marks, airbag deployment and more. Every crash is different. In this particular case, my friend commented that it was a good thing he took so many pictures at the scene because he could not believe the garbage truck driver tried to deny it was his fault when he was clearly in the oncoming lane. I reminded him that if he didn't have those pictures it would be a "he said, she said" scenario.
If you or a loved one is injured in a car crash and doesn't know what to do, feel free to call my office (352) 512-0444 or cell phone immediately at (352) 209-4949 and we'll talk you through it. Don't go it alone. Like my client, you now have a friend in the law …. and my digits. Be safe out there!