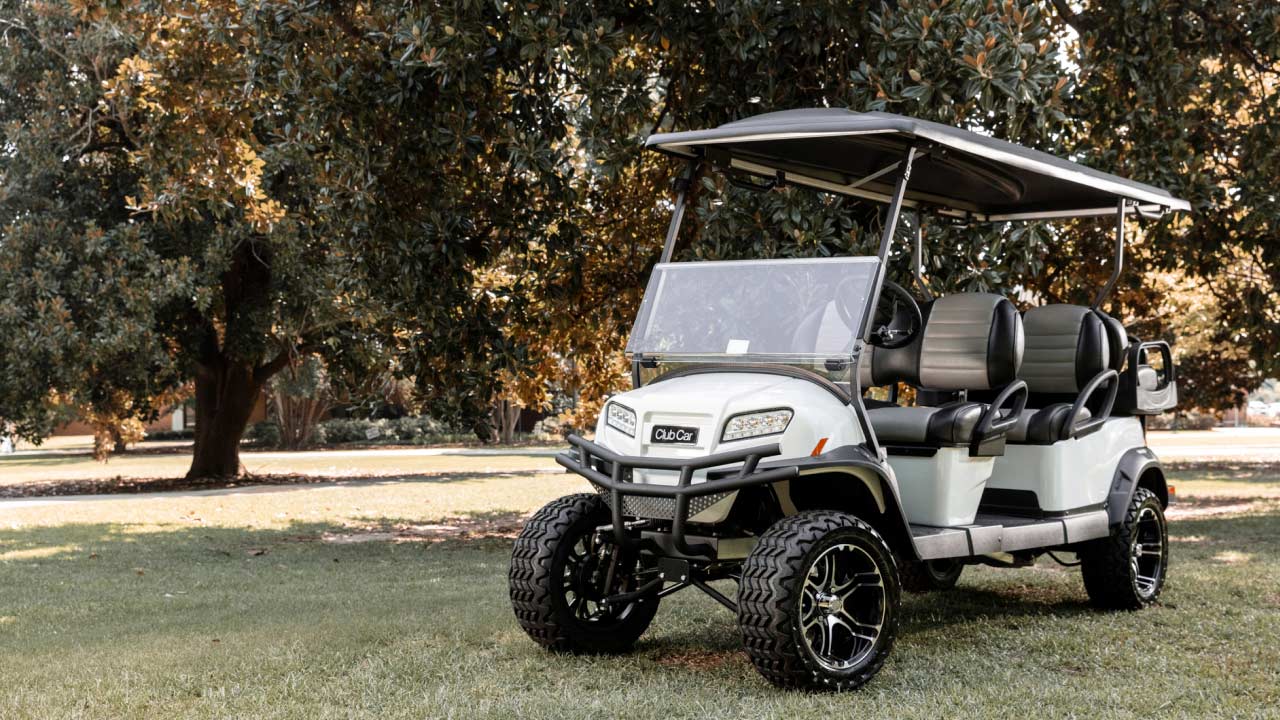 If you have ever visited the Villages or one of the many gated communities in our area, it won't take you long to see just how many people enjoy the fresh air, sunshine and convenience of driving around in their golf carts.  Recently, the City of Ocala has authorized the use of golf carts on certain designated roads within the City and many families, with kids in tow, have taken to driving their neighborhood streets and visiting with their neighbors.
Many people in Florida who own a golf cart are confused with Florida's insurance requirements and it is oftentimes not until after an accident or collision those questions about insurance are answered. Here are some questions you should be asking if you own a golf cart:
Is it a golf cart or not?
In Florida, it's a golf cart if it has four wheels and was designed and manufactured for use on a golf course or for recreational use and not capable of exceeding 20 mph.   There is no requirement that a golf cart be registered or insured.  Low-speed vehicles, on the other hand (having a top speed of greater than 20 mph but less than 25 mph) are considered motor vehicles and are required to be titled, registered, and insured just like a car in order to be operated on Florida streets and highways.
Am I required to insure my golf cart?
You are not required to insure a golf cart in Florida.  However, if you are operating your golf cart within your gated community and you hurt or injure someone your homeowner's insurance may cover you.  Remember, that each homeowner's policy is different and you must read the policy to understand the extent of coverage, if any.
Should

 

I insure my golf cart?
Yes, you should!  If your cart is not registered and titled, you can purchase very affordable golf cart insurance ($50-70 per year).  A golf cart policy offering Bodily Injury Insurance will protect you if you injure someone else and Uninsured/Underinsured (UM/UIM) Motorist Insurance will protect you and your carts occupants when injured by someone else who is under/uninsured. For example, if a car hits your golf cart and that car does not have liability insurance, your UM/UIM coverage would step into the shoes of the at-fault driver and cover the injuries and damages you or your passengers suffered.
If your cart is registered, you can add the cart to your existing auto insurance policy and I would highly recommend that you opt for "stacking" of your UM/UIM coverage.
So, as you can see, it is very important to first determine whether your golf cart is considered a golf cart or if it is a low-speed vehicle in FL and to make sure that whatever it is, you have protected your "ass"ets by insuring the vehicle correctly. If you have any questions, I am always available to advise you. Just give me a call at 352-512-0444.