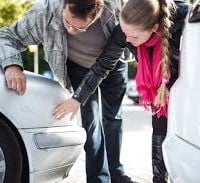 Listen to any morning traffic report or talk to any friend and you know — car accidents happen all the time. And everyone's got their own story. So how do you separate fact from fiction?
Here are five of the most persistent car accident myths compiled by Christopher Coble, and why they're they are just plain wrong.
If You're Not Hurt Right Away, You Can't Sue for Injuries Later.
Some injuries, especially those like whiplash, can take weeks or months to develop noticeable symptoms. As long as you're within your state's statute of limitations, you can file an injury claim. Even if you don't feel hurt, you should probably seek medical attention immediately, just to be safe.
The Other Driver and I Can Work It Out.
One of the biggest mistakes after a car accident is admitting fault. And this can happen easily, even by mistake, if you're negotiating on your own with the other driver. While a minor fender bender may only require the exchange of insurance information, anything more serious may require legal assistance.
The Police Will Determine Whose Fault It Was.
If your car accident involves significant damage or any injury, you should call the police so they can write an accident report. And while this report may come in handy in court later, the police don't ultimately decide blame for an accident. It's possible that insurance companies, lawyers, and the courts could battle over liability, so you should supplement any police report with your own notes, pictures, evidence, and recollections.
Your Insurance Company Will Handle Everything.
While insurance is a great, and a legally required thing to have, your policy may not cover everything, and the company may not be eager to pay out what is covered. You should review any offer your insurance company makes and be especially wary of talking to the other driver's insurance company or attorneys.
I Don't Need an Attorney to File My Injury Claim.
It's possible a minor accident won't necessitate the advice of an attorney, but if there's any dispute regarding who was at fault, the damages, or enforcing payment, you might want a good lawyer on your side. This is true even if you're planning on settling your claim out of court.
Hopefully you'll never find yourself involved in a serious car accident. But if you have been, you may want to consult an attorney regarding your options.